Apprenticeships at JMG Systems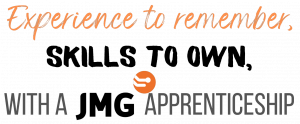 Apprenticeship's here at JMG give you a unique opportunity to work within a professional, friendly, and social environment. You will have the chance to experience various departments within our business and gain valuable industry insight that includes manufacturing, engineering, and onsite service. We work in partnership with local education providers and provide ample opportunities to use your knowledge from your studies and apply it here at JMG. Our team are highly skilled and will support and encourage you throughout your apprenticeship journey.
Hear about Abby's Apprenticeship Experience
Abby is our inspiring and ambitious 1st year Higher Level Mechatronic Engineering Apprentice. Listen as she shares her experience and nuggets of wisdom as to why the apprenticeship route is the right choice for her.
Meet Our Apprentices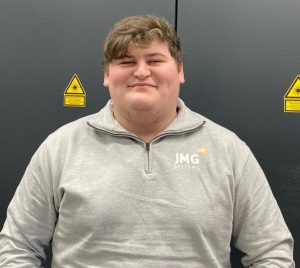 Chris, BEng. Mechatronic Engineering, South West College
"I was given the chance to do my own project, from the creation of the loom to the terminations that go into it this was one of the most enjoyable part of my apprenticeship because it allows me the freedom to see how much actually goes into the work we do at JMG"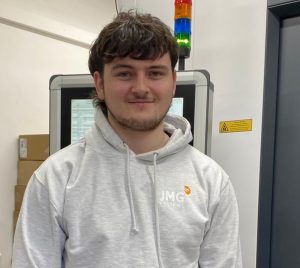 Nathan, BEng. Mechatronic Engineering, South West College
"I decided to go down the apprenticeship route as I am definitely a more practical learner and also to confirm which engineering route I wanted to pursue."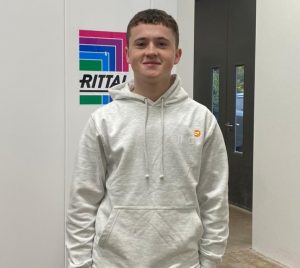 Ross, BEng. Mechatronic Engineering, South West College
"A typical week for me consists of completing various different tasks in the information and panel wiring departments of the company. Some of these tasks include, creating work schedules for each week, wiring panels and creating wire dashes."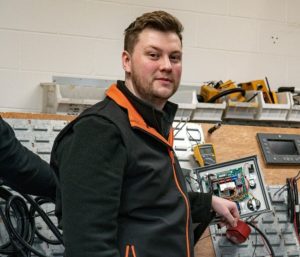 Nathan, BEng. Hons Mechatronics and Advanced Manufacturing, Ulster University
"I have enjoyed being able to challenge myself both academically and practically and being able to experience different parts of the industry."
Interested?
We have closed our apprenticeship intake for 2023.
We will be visiting local schools and colleges from September onwards if you want to discuss our 2024 apprenticeships
Linkage to Further Education
JMG Systems has close ties with local colleges and universities, and are actively involved in work experience, apprenticeships, undergraduate placement and graduate programmes.